We are screening some of his films this week as well as the next.
THIS WEEK COME SEE: Ruins/Ruinas (2001) at the UG's Main Library – Friday May 19th, at 6PM.
Join us! It's FREE!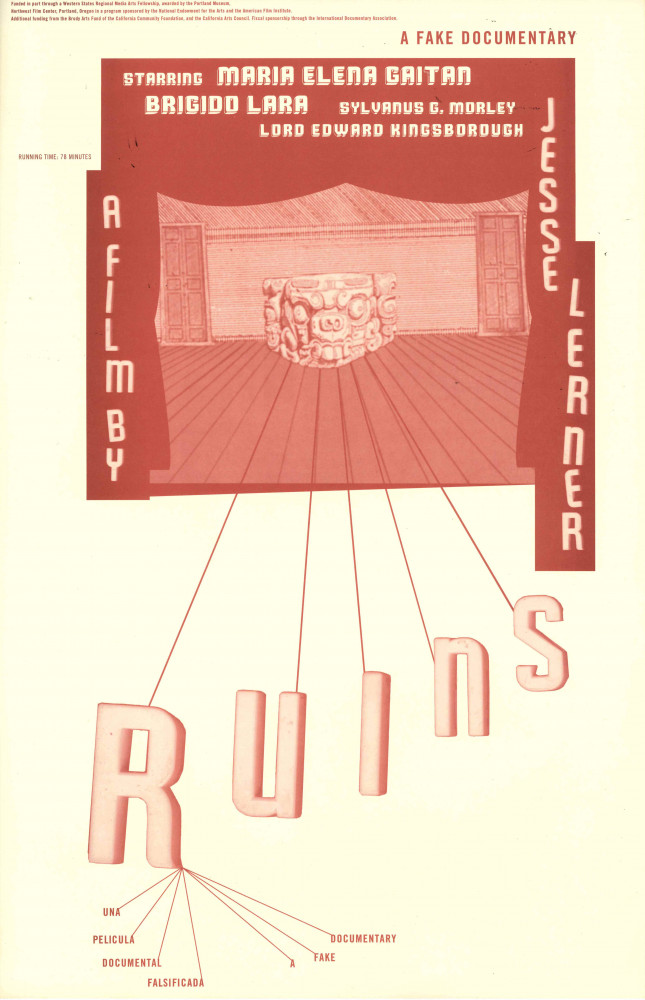 ---
ABOUT THE FILM
Come this Friday May 19th to UG's Main Library at 6PM for a special screening of Jesse Lerner's documentary "Ruinas/Ruins". 
American filmmaker Jesse Lerner is known for his unique cinematographic style, sense of humor and fascination with Mexico. This is one of his masterpieces. 
Ruins (by Jesse Lerner, B & W 16mm, 78 min., 1999) 
Surveying representative moments from the history of Mesoamerican antiquarianism, this experimental documentary suggests how diplomacy and Pan-Americanism framed the recontexualization of archeological objects as art. Part faked newsreel, part diffusionist rant, Ruins uses appropriated sounds and images to contemplate a history of appropriated objects. The film visits with Brigido Lara, master forger, and suggests parallels between the documentary film and the fake. 
With: Sylvanus Morley, Maria Elena Pat, Filiberto Sanchez Varela, Brígido Lara and Alice Dixon Le Plongeon. 
Counterfeiting is a practice with broad and devious implications, from the merest of fake objects to entire histories shaped as facsimile. Jesse Lerner's provocative Ruins takes the forger's art and applies it to the appropriation of culture, in this case, Mexican. The prologue to this wizardly jumble of newsreel snippets, travelogia, and stagy rants collates early colonial misconceptions of Mexico's populace, a stewpot of ethnographic and political distortions. From there, Lerner charts the rarefaction of this process that recontextualizes archeological objects as art. In this cultural valuation, Mayan and Aztec objects are severed from their origins and further rarefied within the confines of museums. At the center of Ruins is Brigido Lara, a master forger whose "Pre-Columbian" objects have been displayed in major (and unwitting) museums throughout the U.S. and Europe. Is this the final subterfuge of the colonial project----the real and the fake, indistinguishable? Ruins builds a diverting argument from the (imitation) detritus of culture. 
--Steve Seid, Pacific Film Archives 
The complexities of historical authenticities are explored in Jesse Lerner's provocative experimental film. Ruins constructs a hilariously inventive, hybrid documentary form by sampling aspects of the newsreel, the travelogue, the ethnography, the polemic, and the home movie. The film focuses on the histories of the Mayan and pre-Colombian artifacts and follows their trajectory from their discovery at an archeological excavation, through a subjective interpretation process (usually Eurocentric), where meaning and intent change, to a final resting place in a prestigious American museum. Lerner draws clear parallels between the face (art reproductions) and this "fake" documentary film by interrogating notions of expertise and authority as they relate to authenticity--not simply in the world of Mexican art but in that of documentary as well. Using personal testimonies and omnipotent narrators, he plays with style while never allowing his visual sensibilities to overstate the biting central questions of the film. At Ruins end, Lerner purposefully and effectively undermines the label "authentic" when he recounts the exploits of Brigido Lara, a talented forger of pre-Columbian art, who fooled everyone--including New York's Metropolitan Museum--by replicating an artifact so well even experts claimed its authenticity. Lerner melds deteriorating archival clips with distressed original interviews, creating the impression that the celluloid is itself a ruin. Ruins celebrates irreverence through the collision of image after image at a frenetic pace, and in the process, delights its viewers with its astute commentary and aesthetic mastery. 
--Beth Irizarry, Frontier, Sundance Film Festival 
Much like Umberto Eco did with his book Travels in Hyperreality, Lerner uses his film Ruins to question whether or not what "experts" present to the public as reality might actually be fake. In this pseudo-documentary, newsreels, travelogues, and home movies are combined to trace the path of several ancient Mayan artifacts from the time they are removed from their native soils to their arrival in a new home, a museum in the United States. Along the way, academics, all of European descent, decide what the history of these objects was, thus ascribing to them a new reality. However, the true genius of Lerner's work comes not from his attacks on the learned, but in the questioning of his own enterprise. He pokes fun at the fact that filmmakers are no different from people in academia, since neither have yet to corner the market on truth and must continue to tell stories based on what their imperfect eyes see. All this, and a fast-paced, but not overpowering, visual style, make this often funny film a "true original." 
-Athens International Film and Video Festival 
ABOUT THE AUTHOR
Jesse Lerner is a filmmaker, curator, and writer. His documentaries Frontierland/Fronterilandia (1995), Ruins (1999), The American Egypt (2001), Atomic Sublime (2010), The Absent Stone (2013) and The Fragmentations Only Mean (2021) have screened at the New York's Museum of Modern Art, the National Anthropology Museum in Mexico City, the Guggenheim Museums in New York and Bilbao, and the Sundance, Rotterdam, and Los Angeles Film Festivals, among many other venues. Washington's National Gallery, the Anthology Film Archives, and Mexico's Cineteca Nacional have presented mid-career surveys of his films. His books include The Maya of Modernism, F is for Phony: Fake Documentary and Truth's Undoing, The Shock of Modernity, Ism Ism Ism, and The Catherwood Project. As a curator, he has organized exhibitions for the Robert Flaherty Seminar, Mexico's National Palace of Fine Arts, the MAK Center, the Museo Carrillo Gil, and the touring series Mexperimental Cinema. He is a professor in the Intercollegiate Media Studies program of the Claremont Colleges.